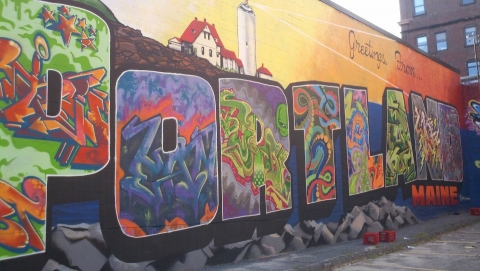 After living in the Washington, DC area for nearly ten years, our family decided to shake things up and make a big move to a new city in a new state. A place where we could settle in and raise the kids, knowing there wouldn't be another big move in the future. After much deliberation, we decided we would call Portland, ME our new home.
Whenever we tell people about our move, they inevitably ask us: why Maine? Why Portland?
Simply put: the people are wonderful, and over the years, we've fallen in love with the state of Maine. And Portland? Because it has all the best attributes of a big city (fine dining, interesting shopping, incredible arts, great music scene), without all the annoyances and hassles of the really big cities (no traffic jams, no grouchy people, no super-inflated cost of living, no rat-race that always keeps you on edge).
We've been here for around 6 months now, and we're thrilled to call Portland, ME our home. And I'm thrilled to be able to start designing and developing web sites for all the great restuarants and small businesses in the area. I'm especially excited to try and help many of those restuarants and business develop their first mobile friendly Web sites. With smart phones changing the way people find places to eat and stores to shop at, optimizing your Web site for mobile devices is becoming increasingly a necessary part of your small business marketing strategy.
Some of our favorite places (so far) in Portland are: